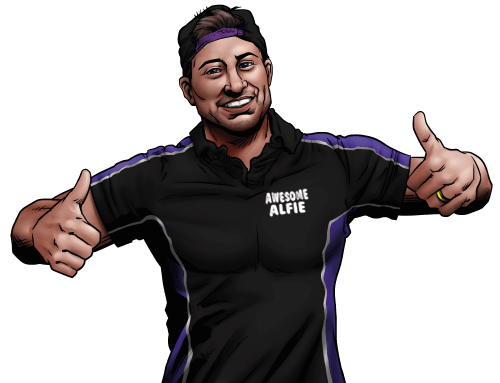 Awesome Alfie – My Story
Rascals really started out as a disco service. One day someone asked if I could DJ for a children's party. In the past my background had been more bars, clubs, weddings and parties for the older generation. Now I used to work at Pontins back in the 90's as a 'Leisure Blue', not to be mistaken with a Blue Coat! This gave me a great insight of the children's entertainment industry and, with a few years under my belt, I was quite knowledgeable on how to entertain kids. I was providing this disco service to children with minimal interaction and it didn't quite feel right. I wanted to deliver a service where the kids could not just dance to their favourite music but enjoy some great innovative new party games or even classic party games, such as pass the parcel, but with a spin on it.
I designed some new games and even learned some current ones from other entertainers in North West England and became part of a community where we would share ideas to see what works and what doesn't. Myself and Rascals, where we are now, is a tried and tested party formula that works every time. I get great feedback from both children and adults and this, for me, is just amazing. It's a very fulfilling job and, at times, it doesn't even feel like a job. On occasions parents have approached me at the end of a party and have commented how it looks like I really enjoy what I do. I really am passionate about what I do and that's why, when you book a Rascals Party, you get the best party ever!
ABOUT RASCALS
Rascals Children's Entertainment specialises in kid's discos and professional children's entertainment.
Whether its kid's parties or teenage discos we've got it all right here for you.
Our host is Awesome Alfie, a DBS checked and fully insured DJ and entertainer.
Call us: 07832 188860 
Email us: info@rascalsparty.co.uk 
Our Friends
Adult Discos - Birthdays and Weddings